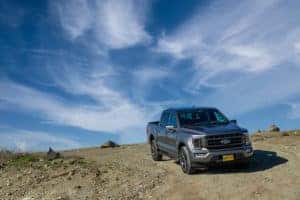 The Ford F-150 is all-new for 2021. The 2021 F-150 will be available with several powertrain options—including a hybrid for the first time—plus three cab configurations and both long and short bed lengths.
Engine choices will includes a 290-hp 3.3-liter V-6; a 400-hp 5.0-liter V-8; a 325-hp twin-turbocharged 2.7-liter V-6; a 400-hp twin-turbocharged 3.5-liter V-6; and a 250-hp 3.0-liter diesel V-6. You can choose between rear- and four-wheel drive with any of the F-150's available powertrains. 
The new F-150 will also be offered with a hybrid powertrain for the first time ever which consists of a 3.5-liter twin-turbo V-6, a 35 kW electric motor, and a 10-speed automatic transmission with up to 700 miles of driving range per tank. 
The F-150 has best-in-class available towing and payload. While the base 3.3-liter V-6 engine's towing capacity maxes out at 8200 pounds, models equipped with the 400-hp twin-turbo 3.5-liter V-6 can tow up to 14,000 pounds. Going with the venerable 5.0-liter V-8 means maximum towing capacity is just 13,000 pounds; the diesel V-6 is capable of up to 12,100 pounds and the hybrid model can tow up to 12,700. Payload capacity ranges from 1840 to 3250 pounds.
A few of our favorite features on the all-new F-150 include: a folding gear shifter, speakers in the headrest, rulers and clamps on the tailgate, and max recline seats that fold almost completely flat.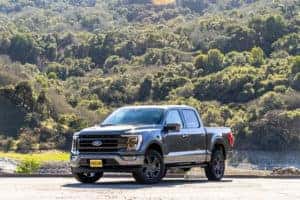 There are also 14 power outlets! In the bed are four 20-amp 120-volt outlets and a twist-lock 240-volt outlet running at 30 amps. In the cab are two more 120-volt outlets, one 12-volt socket, and six USB ports. It has two 3.6-kW generators and the PowerBoost full-hybrid V-6, can act as a portable generator for up to 64 hours. The truck can run in a Generator mode that's separate from the ignition's normal accessory mode.
The SYNC 4 Swiping Gestures is a great feature for maxing interior work space. – The 12.0-inch touchscreen can display two windows of information. While the narrower right pane is meant for quick glancing, swiping left will send that info to the larger pane without requiring the use of the main menu or any shortcut buttons.
To learn more about the all-new 2021 Ford F-150, visit Capitol Ford in San Jose.